"The kind of family artist that has great passion for the art he creates along with the talent that appeals to grown-ups and children alike."
 --Skirball Cultural Center, Los Angeles
THE NEW VERSION OF AWARD-WINNING BEARS, BEES & BUTTERFLIES IS AVAILABLE FOR PURCHASE!
PLEASE GO TO THE "SHOP" PAGE.
DOWNLOAD & CD AVAILABLE!
HERE IS A QUICK PROMO ON YOUTUBE
CHECK OUT PAUL'S INTERNATIONAL MUSICAL COLLABORATION / MUSIC VIDEO OF HIS QUARANTINE SONG! YOU'LL BE HAPPY YOU DID! DOWNLOAD TRACK FOR A DOLLAR (SO MUCH MUSICAL JOY FOR A BUCK!) ON THE SHOP PAGE.
Some of my Americana/bluegrass-inspired songs:
https://soundcloud.com/bluegrasspaul/temperance-reel2
https://soundcloud.com/bluegrasspaul/sarah-1
https://soundcloud.com/bluegrasspaul/devilsfieldcongas
The newly designed Bears, Bees & Butterflies CD is here! With an illustration (an actual painting!) by Tim Bowers, the multi-award-winning recording -- Parents' Choice, iParenting Media, Independent Music Awards, Children's Music Web, International Songwriting Contest, Unisong Contest -- is ready for you!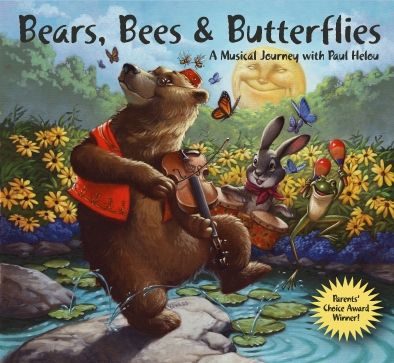 Have a listen to the sound clips of Paul's original songs, browse the site, and call 1-888-467-7687 (IMPROVS) or e-mail info AT paulhelou DOT com or -- phelou AT aol DOT com for more information. Enjoy!